The ideal Weekend in September: An escape to an island near Athens
As summer comes to an end and the crowds of tourists begin to thin out, September is a stunning time for one last excursion close to Athens. Summer moments are full of light and carelessness. The sun that touches our skin, the bright blue sky, the shade of the Cycladic bougainvillea, the walks in the traditional alleys, the dips in the cool blue waters. In these moments, time seems to slow down and we let ourselves go in the spirit of summer. However, the arrival of September does not mean the end of these moments.
You can feel the summer spirit again with a weekend getaway to the Cyclades.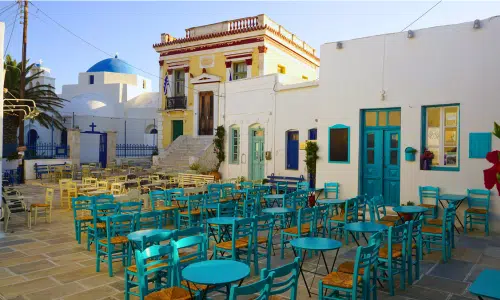 1.You will reach Serifos in just 2 hours and 5 minutes! It is an authentic Cycladic island that is popular for its natural beauty, simple life, heavenly beaches and for its imposing landscapes. However, Serifos also hides another great secret beauty: its beaches. The beach of Agios Sostis and the beach of Ganema are two of the most famous beaches. Both have deep, crystal clear waters, are suitable for endless dips and for those who are looking for relaxation.
2. With Champion Jet 2 you can leave on Friday noon and arrive in 2 hours and 30 minutes to Sifnos, a destination different from the rest. An island that harmoniously combines peacefulness with fun, gastronomy, folk art and tradition. The ancient capital of the island is the picturesque settlement of Kastro, whose atmosphere will captivate you and will give you a feeling of another era. One of the most important attractions of the island is Chrysopigi. A dreamy, white monastery built on the split rock with natural environment and the blue sea that will enchant you. Platys Gialos, Herronisos and Vathi are sandy, clear blue beaches for unique moments of coolness.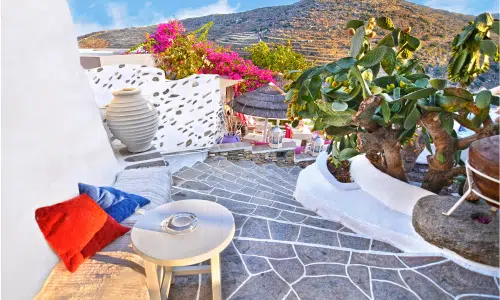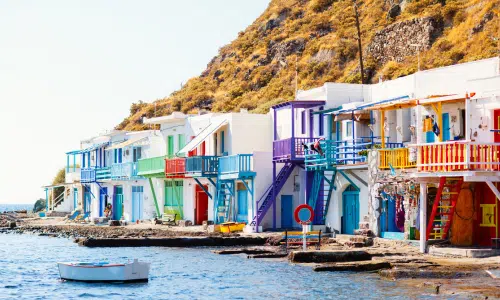 3. Another destination that you couldn't even imagine you would reach in just 3 hours and 25 minutes, is Milos. For this island visitors come from all over the world and you have the opportunity to visit it for a carefree weekend. It is the jewel of the Aegean with impressive natural beauty, volcanic landscapes and eerie beaches. Sarakiniko, with rocks that remind of a lunar landscape and blue-green waters, creates a setting reminiscent of another planet. In Kleftiko you will see huge volcanic rocks, you will dive in crystal clear waters and hear lots of stories about pirates. You will discover one of the most beautiful settlements, Klima. It is a traditional fishing village with colorful houses by the sea, the famous "sirmata". The fishermen's boats were below them and above they lived with their families.
4. If you want to visit a cosmopolitan Cycladic island that has an intense life, but also a quieter and more traditional side, the right destination is Paros. With Champion Jet 1 you will leave Piraeus on Saturday morning and arrive in 2 hours and 50 minutes! You will walk in the cosmopolitan and picturesque Naoussa, you will admire the temple of Ekatontapiliani and you will swim in the heavenly beaches of Kolymbithres, Piso Livadi and Chrysi Akti. A weekend you need to feel a little more summertime.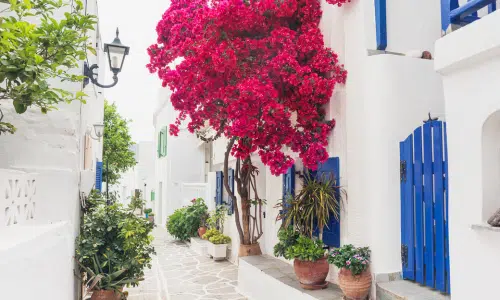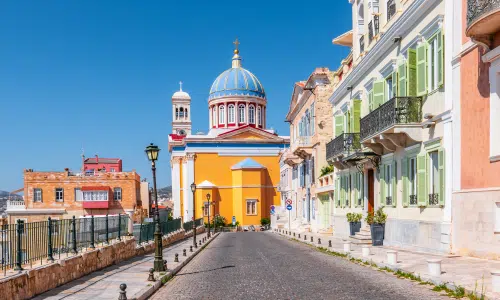 5. Finally, with the WorldChampion Jet you will reach Syros in 2 hours! The SEAJETS speedboat, with a Guinness record for its speed, will travel you with incomparable comfort and luxury to the most splendid island of the Cyclades. Don't skip wandering around Ermoupoli and seeing the famous Town Hall. This magnificent building of 1889, designed by the German architect Ernst Ziller, is one of the largest municipal buildings in Greece. For your swimming, go to Galissa, Kini and Delfini. Its charming architecture, local delicacies, beautiful beaches and rich history await you.
There is still time in September to organize a small nearby excursion to an island in the Cyclades and SEAJETS brings you even closer! This trip is necessary to get some more strength to live moments of relaxation. So, let's get on board!